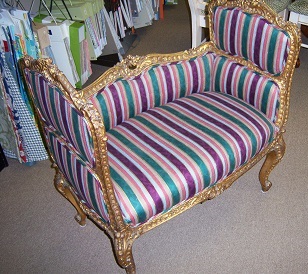 I loved this little settee the first time I saw it, but I knew with some expert reupholstery and a new design direction, it could be even better. My client has the coordinating armoire in the living room and we wanted to take the piece from antique to modern.
Just around the corner is the front entry to the condo and we knew this piece would be the perfect introduction to the eclectic personality that fills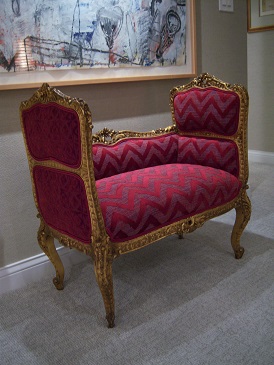 this home.  Wanting to play up the contrast between antique and modern, we juxtaposed the gilded antique wood frame with a very modern red patterned cut velvet. It now looks perfect mixed with all of the modern artwork. Helping clients express their personality through fabrics, color and upholstery is our specialty. I love how this antique piece is now beautifully suited for a more modern setting. The settee is a treasure which stands as a work of art all on it's own. That's the power of reupholstery and good design.
Lynn